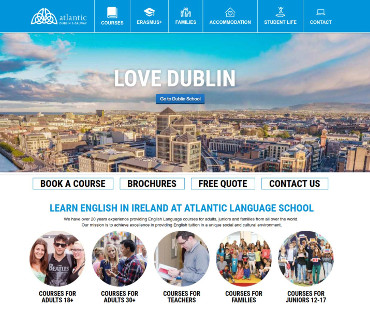 Atlantic Language's commitment to providing high quality English language.
Contracted to rebuild, upgrade and maintain the websites and learning management systems.
• Joomla 3 Development
• Responsive
• Custom Extension for booking engine to allow booking of courses for adults, juniors, teachers and families with their unique requirements in terms of courses, locations, accommodations and transport.
• Custom Plugins allow easy editing of specific designs
• Syncing Photos with Dropbox for easy updating of Photo Galleries
• Separate subsite for Payment
• Payment Gateway with Realex
• Customization based on clients requirements
• Hosting, Administration and Support